Sales Volume and Prices Increase in Upper Value Range For Homes and Across All Price Ranges for Vacant Land –Inventory Shortage Curtails Activity in the Lower-End Market
The first quarter of 2015 is on track to have an approximate 30% increase in sales volume when compared to data from the previous year.  Observing sales data through the middle of March, it is noted that the number of sales (homes and building sites in Teton County east of the Teton Range) has increased from 74 in number at this time last year to 94 in 2015. The combination of this trend and an over 23% increase in the average price of the aggregated data combined for an increase in the dollar volume of sales of 34.81%. The upper end or "Resort" segment of the market was chiefly responsible for these trends as upward price pressure from a constriction in inventory has somewhat stagnated sales volume numbers for lower-end properties. Despite indications from the data showing that the "Local" market has declined in price, comparisons of sales and re-sales shows prices to still be rising (with the counterintuitive indication provided by the averaged data being due to fluctuations in the type of home that sold – not price trending). An exception to the trend of contracting sales volume in the lower-end market was noted in the vacant land segment of the Local Market, as a small flurry of homesite sales increased sales volume by over 130% for this data grouping.
(click on tables/charts to see enlarged view)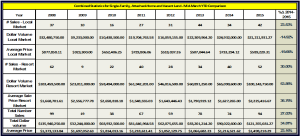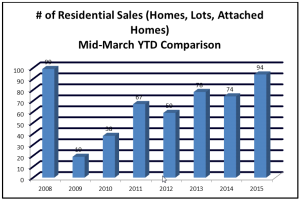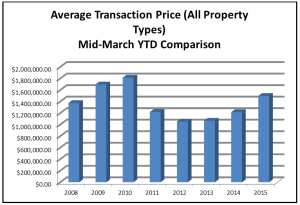 Single-Family Home Sales Trends Through Mid-March 2015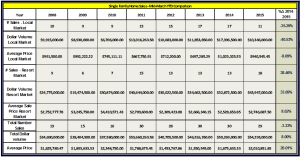 Single-family home sales were off in number from the previous year by slightly more than 3% overall, with gains in the number of high-end sales being offset by the sales numbers for the Local Market. The increase in the Resort Market metrics is the logical result of a market characterized by strong demand. The Local Market's decline in number is attributed to inventory shortages.
Vacant Land Sales Trends Through Mid-March 2015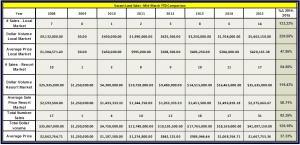 Vacant land sales increased by all measures (number of sales, dollar volume of sales, and average sales price) when comparing mid-March data from 2015 to that of the previous year. The local market was buoyed by both lot sales in the original plats of Jackson as well as newer PUD-style subdivisions (where one sale in Indian Trails was noted well in excess of $500,000). The Resort Market benefitted from several sales in upper-echelon developments including Bar BC Ranches (2), Shooting Star (2), and Indian Springs.
Attached Home Sales Trends Through Mid-March 2015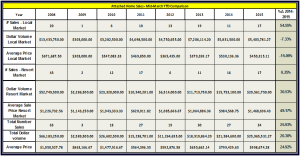 The number of attached home sales (Condominium / Townhouse) through mid-March was up in number by over 25% from the previous year. Volume numbers were up in both the Local and Resort markets. A number of smaller in-town units sold in older developments, and this served to depress dollar volume and average price indications – despite a noted increasing value trends for this segment. The resort market for attached homes increased by over 30% in dollar volume and nearly 50% in average price from the previous year. Influencing these numbers were the sale of three Four Seasons units (as compared to none during this time period the previous year) and six Teton Village condo-tel units (as compared to one during the sample period of the previous year).
Active inventory
The inventory of homes grew from a shortage of available inventory in 2007 to an oversupply in 2010-11 following the events of the financial crisis. Since 2011, a downward trend has been noted, with inventory being above that of 2007 levels, but at a level that is generally opined to be a shortage level. This trend continued through the first quarter of 2015 with inventory being down approximately 20% overall as of mid-March of 2015.  The greatest reduction in inventory was noted in the resort areas of Teton Village and the West Bank (Aspens / Teton Village). However, a lack of more moderately-priced building sites in the Town and South of Town Market Areas was also noted.
Historical Active Inventory Levels as Late March 2015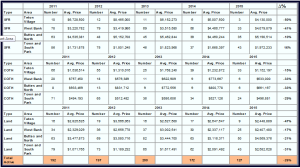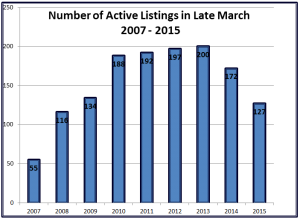 This market report provided by: