2015 Sales Volume and Prices Continue to Outpace Previous Year 
Drop in Gains From Midyear Reporting is Indicative of a Slower Third Quarter 
Subtleties in Appreciation Rates Develop Between Market Segments
The first three quarters of 2015 reported an over 16% increase in sales volume (number of sales) when compared to data from the previous year. This rate is down from the 20% growth trajectory noted at midyear. However, while the most recent numbers show a contraction in the rate of growth in relative terms, the current year 3rd quarter numbers still showed growth, with 19 more sales occurring through the 3rd Quarter of 2015 as compared to the period ending in the 3rd Quarter of 2014. The combination of the volume growth and an over 28% increase in the average price of the aggregated data created a strong increase in the dollar volume of sales.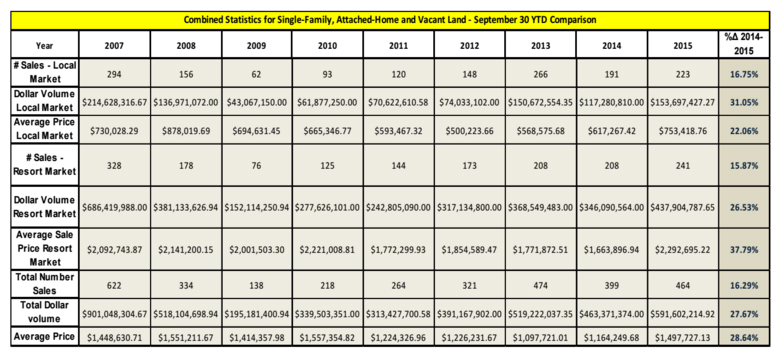 Andrew Cornish – Broker
PO Box 9467 | 155 E. Pearl,
Suite 10
Jackson, WY 83002
(307) 733.8899
(307) 413.7799
Linkedin

Data provided by Rocky Mountain Appraisals, Teton County's leading valuation firm: www.rmappraisals.com