As was noted in the recently released Rocky Mountain Appraisals 2012 Year End Market report, the Teton County Real Estate Market appears to have largely stabilized. As further evidence of this, the following table and chart arrays the inventory of active listings in Teton County MLS Areas 1-9 available as of December in each year since 2007.
(click on tables/charts to see enlarged view)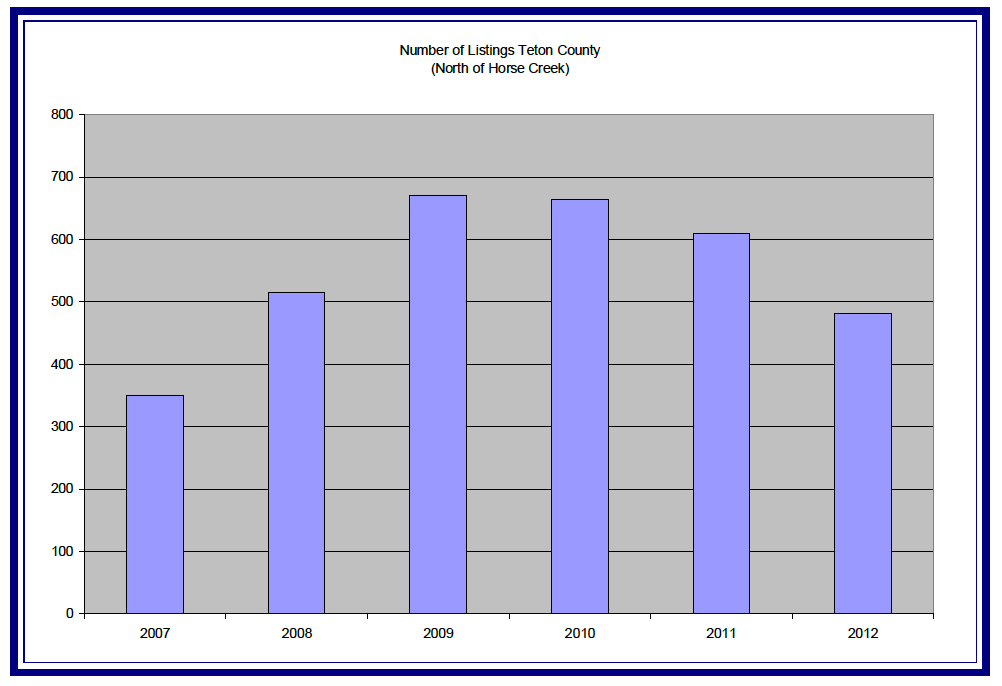 The preceding table arrays the initial increase and subsequent decrease in listed inventory in the major market segments of Teton County. Areas such as the condominium market north of the Town of Jackson or the market segment south of the Snake River Bridge were not specifically addressed due to the inconsistencies typically caused by the limited amounts of data points in these areas. Overall, this analysis shows that, on average, buyers have less inventory (a decrease of 21.02%) to select from when property shopping in Teton County at the end of 2012 as compared to 2011. This continues the trend which began in 2010, when available inventory first began to recede from its peak of 671 units (a figure over 92% greater than was noted in the pre-correction real estate market of late 2007). This is encouraging as it signifies the third year in a row where inventory has decreased (a 1.04% decrease was noted from 2009 to 2010 and a decrease of 8.28% was from 2010 to 2011). However, comparing current inventory levels to those experienced during the more robust market of 2007, it is noted that inventory is still approximately 37% above pre-correction levels. Despite this, many area realtors are now complaining about shortages in various market segments. Lower end single-family residences and vacant lots are among the segments reported to have limited selections for willing buyers. This report is corroborated the data shown in the preceding table, which shows the greatest decreases in inventory of single-family homes, and vacant lots to be in the Town of Jackson and South Park market areas (areas typified by more affordable housing opportunities).
Regards,
Andrew Cornish, MAI, SRA
President, Rocky Mountain Appraisals