Gains Over Previous Year Continue Through the First Quarter
Observing data compiled through the end of March 2013, it is noted that the number of residential real estate sales (single-family homes, attached homes and vacant lots) are up from 79 total sales during the first three months of 2012, to 113 sales during the same period of this year (an increase of 43.03%). Earlier this year, it was noted that a "bounce back" trend of pricing from over-corrected levels was more easily-discernible in the moderately-priced land and townhome segments. This trend continued with some tangible data also being noted in the resort market. More specifically a property in Teton Pines resold at a 32% premium above its 2010 sale price.  Aggregated pricing numbers also increased in this most recent year-over-year comparison, with a 2.88% increase being noted in this metric.  The noted increase in both number of sales and average sales price combined to boost dollar volume of sales by nearly 20% of the previous year's numbers.
The greatest increase in sales numbers was noted in the attached home market (condominium and townhomes), which showed an increase of 64% in the number of sales (up from 25 to 41 for the year-to-date tally).  Both the local and resort market shared in the market gains. Notably, the condo-tel market (resort condominiums with a hotel front desk to facilitate rentals) had one of its strongest quarters since the onset of the recession, with 7 units being sold (combined) from the Teton Mountain Lodge and Hotel Terra Developments. Single-family homes fared well, with an increase in number of sales of over 38%. The local market saw four sales from the Melody Ranch Development, while the Resort market had a combined five sales from the Racquet Club area (Aspens and Teton Pines).
Summary of Market Statistics
 (click on tables/charts to see enlarged view)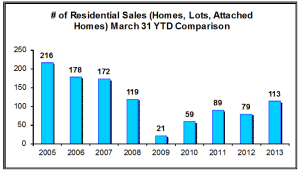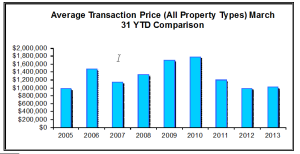 Combined Sales Data – All Property Types

Individual Market Segment Performance
Vacant Homesite Market Segment

Attached Home (Condominium / Townhouse) Market Segment

Single Family Market Segment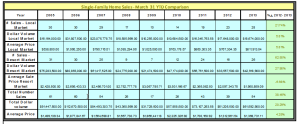 Regards,
Andrew Cornish, MAI, SRA
President, Rocky Mountain Appraisals & Owner/Broker, Brokerage of the Tetons